At The Bride Community Centre (
http://thebridgebrighton.com
) I've enroled on a creative story telling course. The premise is get creative - telling stories and the story of choice is "our story". By the end of the course I'll have ended up with a book telling a story made by mosaics and collage and all sorts.
The first exercise was asking each other a list of interesting questions which help us get to know each other.
The second exercise was (imagine the brick-a-brack wall in charity shops, randomly select X amount of items). These random items were on the table in a jumble and we were asked to pick two and tell a story about the person who would have these items in conjunction with each other. However my partner and I mistook the exercise and instead took items which related to us in some way and the other person tried to guess how. My partner selected car keys and a sea shell whilst I selected a toy gun and an Indian goddess in meditation pose made out of red clay. The gun, I explained, related to the LARPING I do with fake weapons whilst the goddess was the fact that I believe in reincarnation and follow some of the hindu principles but not all of them.
Finally we got creative about our stories. We were given pieces of A2 paper cut in half of the colour of our choice, however when I came up to get my piece I selected the abandoned off cut from some other project and ended up with an odd shaped sheet. I then folded it into a more odd shape and wrote DRATZ in crayon on its front. I chose crayon because an art teacher told me once that if you work crayon really hard you can make it do all sorts of fun things.
Someone asked my why Dratz so I wrote Draiton above it. They then asked why I spelt it that way so I wrote the Japaese down the other side. Next to the Japanese I wrote about all the people in my life at the time I was doing GCSE Japanese.
Opening the page up I wrote "LIFE OF SERVING" in newspaper letters because that was the URL of the internet site where I first became known as Draiton/Dratz. Under that I wrote about all the people I could remember from that site who were special to me. Under that I wrote UNIVERSITIES from a newspaper headline because that is where I became known face to face as Dratz. I wrote 'Nina' next to it. Under that I have a picture of a primark name badge and I wrote how Will and Paul had been involved in changing my name informally at work. Below that is my deed poll story with Ric and Mark being my witnesses, I added how Sky had told me how to do it. On the left hand side of the final sheet I have drawn an artistic family tree to explain why I chose JOHN PAUL as my middle names, below that I have added Berridge, Huntbach to give a nod to my herritage. Under that ss a small section about the roleplay where 'Draiton' himself was actually created.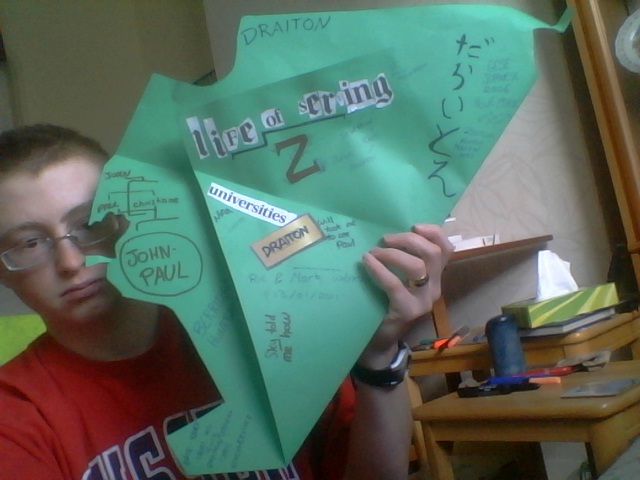 The last page looked like a shield so I drew a capricorn and a snake and doodled my birthday over it.